YESH: an unforgettable experience
Experiencing Israel
Creating a living link to the Land of Israel is one of the strongest factors in ensuring Jewish continuity and is one that makes a meaningful impact on Jewish students' lives.
At The King David School we challenge each and every one of our students from Pre-School through to Year 12 to forge strong and proud Jewish identities.
Be it in our formal Hebrew or Jewish Studies classes, in our daily prayers or in our celebrations of Shabbat, Chagim and special days, The King David School focuses on combining serious Jewish learning with meaningful Jewish experiences. Nothing can substitute experiencing first hand the intense beauty and joy of Jewish living in Israel, however.
This is an interactive PDF brochure designed to be opened in Acrobat. If this isn't available, please download here or email foundation@kds.vic.edu.au for a digital copy.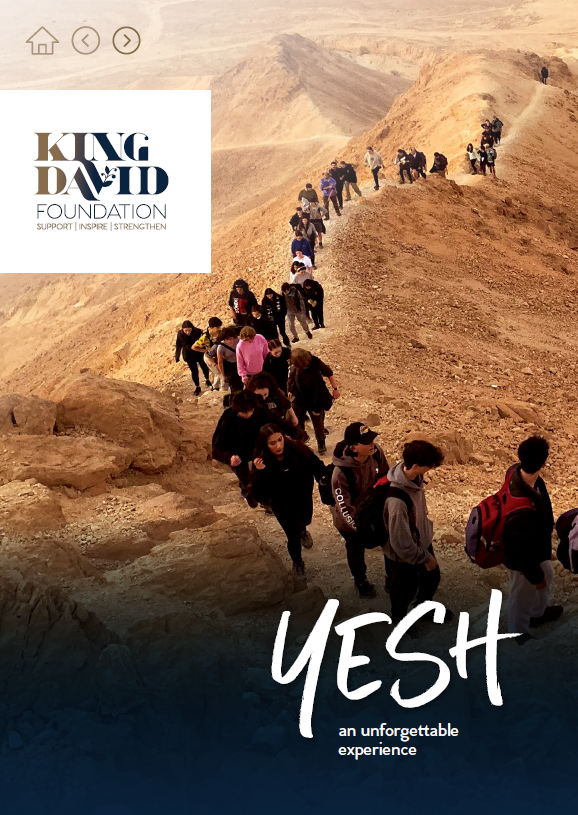 Ensuring love of Israel
The King David School created the YESH Trip to Israel for Year 10 students in 2005. Since that time almost 1,000 students have benefitted and participated in this transformative Israel experience. Developing an attachment to Israel and Judaism at a formative period in a young person's life has a significant impact on strengthening their sense of Jewish identity. The School currently offers every student in Year 10 (approx. 50 students) the opportunity to participate in this immersive four week trip to Israel which brings together a deep understanding of the history of Eretz Yisrael, combined with an experience of the social, legal and ecological issues facing the modern State.